A classic expedition ship, the 96-guest National Geographic Endeavour's generous proportions create a vibrant onboard community. With a casual ambience and no assigned seating in the Dining Room, she is a very welcoming and inclusive ship. Equipped with a glass-bottom boat, ROV, complimentary snorkel gear, kayaks and a video microscope, National Geographic Endeavour enables both wet and dry ocean explorations and departs every Friday from January to December.
National Geographic Endeavour Specifications
Built:
1966
Refurbished:
2005
Former Names:
Marburg
Lindmar
North Star
Caledonia Star
Endeavour
Tonnage:
3,132
Length:
293 ft
Beam (Width):
46 ft
Draft:
19 ft
Decks:
6
Speed:
11.5 knots
Passengers:
96
Cabins:
56
Registry:
Ecuador
National Geographic Endeavour Deck Plan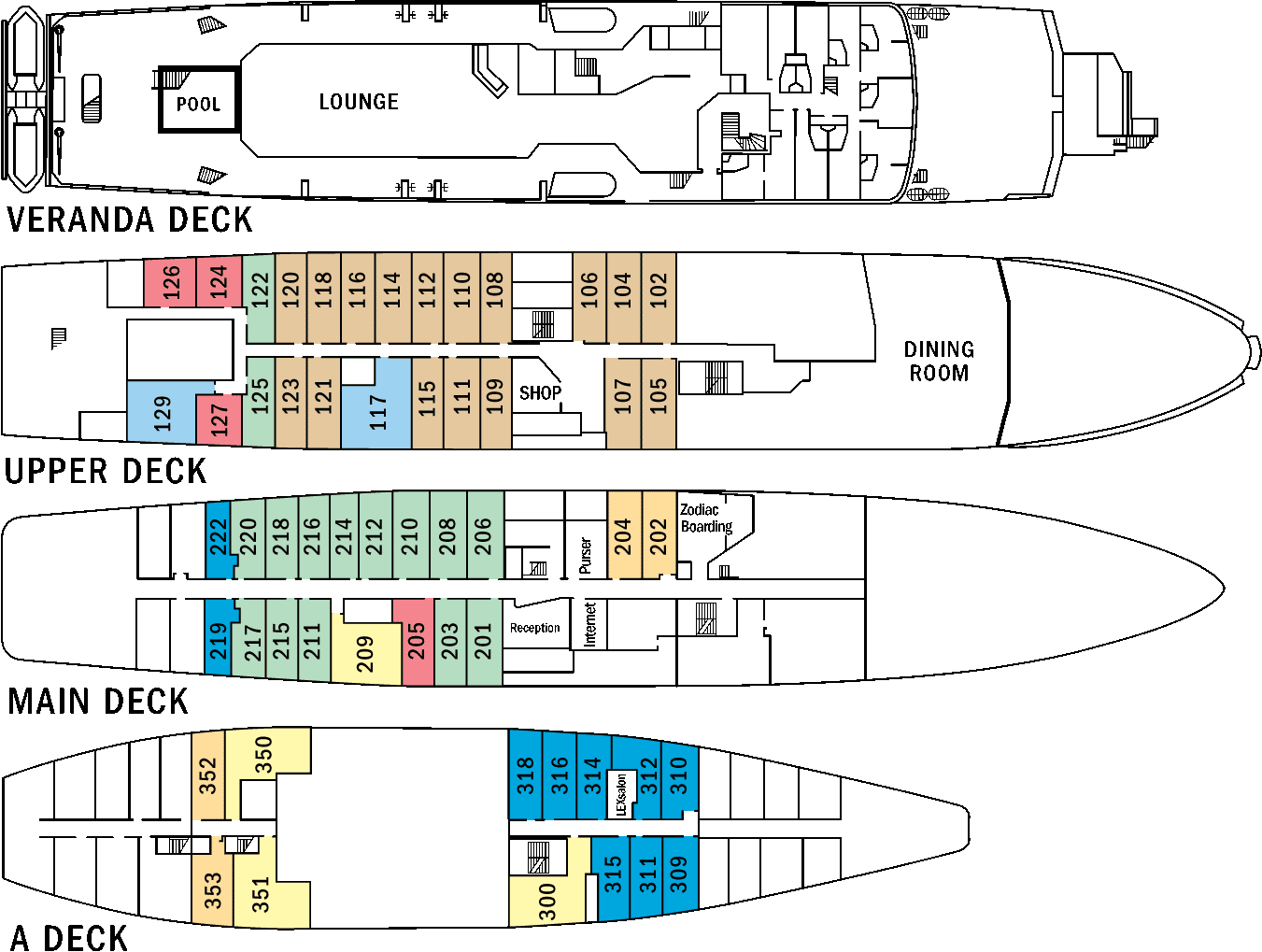 Category
Description
Photos
1
Main Deck #202, 204,
A Deck #352, 353—All cabins feature two
lower single beds, a writing desk and a
porthole.
2
Upper Deck # 122,
125; Main Deck #201, 203, 206, 208,
210-212, 214-218, 220—Cabins have
two lower single beds and a writing desk.
Upper Deck Cabins feature large windows
& Main Deck cabins have two portholes.
3
Main Deck # 209; A Deck
#300, 350, 351—These spacious cabins
accommodate two or three people, all with
two lower beds, a sitting chair, a writing
desk and two portholes. Each has a
separate sleeping and sitting area.
4
Upper Deck #102,
104-112, 114-116, 118, 120, 121, 123
—Conveniently located cabins feature two
lower single beds and a writing desk.
5
Upper Deck #117, 129—
The finest accommodations on board.
Suites have separate sleeping and sitting areas, a large view window and a convertible sofa to accommodate a third person.
Solo 1
Main Deck # 219,
222; A Deck #309-312, 314-316, 318
Solo 2
Upper Deck #124,
126, 127;
Main Deck #205
Note: Sole Occupancy cabins are available in Categories 1 and 2 and have one lower single bed and one porthole.
Shared Accommodations: We will make arrangements for shared accommodations at the double occupancy rate in Categories 1 and 2. Third person rates are available in designated cabins at one half the double occupancy rate.